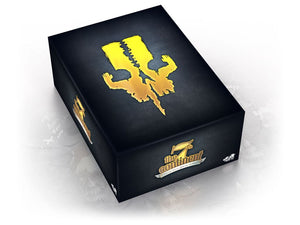 The 7th Continent
As the Kickstarter for The 7th Continent expansion What Goes Up, Must Come Down! is nearing closer to fulfilment, we decided to add this bundle to our store.
A game designed by Ludovic Roudy and Bruno Sautter and Published by Serious Pulp.
Short Description:
It's the early 20th century. You have decided to sail back to the newly discovered seventh continent to attempt to lift the terrible curse that has struck you since your return from the previous expedition.
In The 7th Continent, a solo or cooperative "choose-your-own-adventure" exploration board game, you choose a character and begin your adventure on your own or with a team of other explorers. Inspired by the Fighting Fantasy book series, you will discover the extent of this wild new land through a variety of terrain and event cards. In a land fraught with danger and wonders, you have to use every ounce of wit and cunning to survive, crafting tools, weapons, and shelter to ensure your survival.
Sleeves needed:
This game has many expansions that bring the sleeves count from a base 962 (which is already a lot) up to a total of 1917 80x80mm sleeves. We can offer the soft S80 or the thick TS80 variant.
We know that not everyone is willing to sleeve all the cards from this game and for those we are offering sleeves for a great price already.
But for those that NEED to sleeve every card from the base game and all the expansions, we can offer this two special deals with a 10% discount included:
p.s. you can understand that we cannot cover all the different soft + thick combinations. If you would like a special combination, please write us and we will provide you a special discount.
---