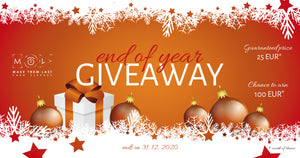 The End of Year Giveaway is HERE!! It's OVER!
Hey everybody, our first BIG contest is here!
Be the first to guess the EXACT weight of Our Dominion Box and win a gift certificate for 100 EUR.
If nobody guesses the exact weight, the closest answer will get a gift certificate for 25 EUR.
Detailed rules for our contests are here.
Write your guess about the weight of our copy of Dominion in the comments below.
Our Dominion Box includes:
All cards from Dominion base game
All cards from Dominion: Intrigue - except Copper, Silver, Gold, Curse, Estate, Duchy, Province cards.
Everything from Dominion: Seaside
Everything from Dominion: Prosperity except rulebook.
Foam insert, hard-paper dividers and 3 promo sets (Black Market, Governor, Prince)
All cards are sleeved with soft 59x92mm Sleeves.
Contest will end at the end of 2020. Any comments placed after midnight (GMT+1) will be disregarded.
Thank you for participating and good luck to everyone!
-----------------------------------------------------------------------------------------------------------
End of Contest!
The weight of our Dominion collection is 4259g and the winner is...
****drum rolls****
Kevling with the answer of 4185g that was 74g away from the exact weight.
Thank you everyone that tried their knowledge/luck with our first BIG giveaway.
We were very happy with how the first try turned out.. so we do plan to make a few more in 2021. We still didn't decide on the dates but don't worry.. as long as you are subscribed, you will get notified for the next one.
We wish you a happy and full of laugh&games 2021!
---
37 comments